If you build websites on WordPress for businesses, you may have a list of go-to WordPress plugins that you use for most of them. If you don't, this one's for you.
Having built a ton of WordPress websites and plugins we realised a set of go-to plugins help in avoiding the research and discovery of plugins for each project. It gets easier to install and manage a common set of WordPress plugins across all the projects.
It also helps to stay uniform with the development process at the organisation level, whenever we build a WordPress website.
Most of the website functionalities remain the same across all websites such as creating a contact form, blogs/articles section, using SVG on websites, SEO support, compressing images, security, sending automated emails etc…
Searching for a suitable plugin for each of these during website development can be a time-consuming process and hence, with a pre-selected list, your process becomes much more efficient.
Here's our list of must-have free WordPress Plugins, our team of experts with substantial experience in WordPress has come up with a refined list of 11 must-have plugins, which we use ourselves.
These plugins are categorized under broad categories of functionality for your ease of usage. Go ahead and give them a go!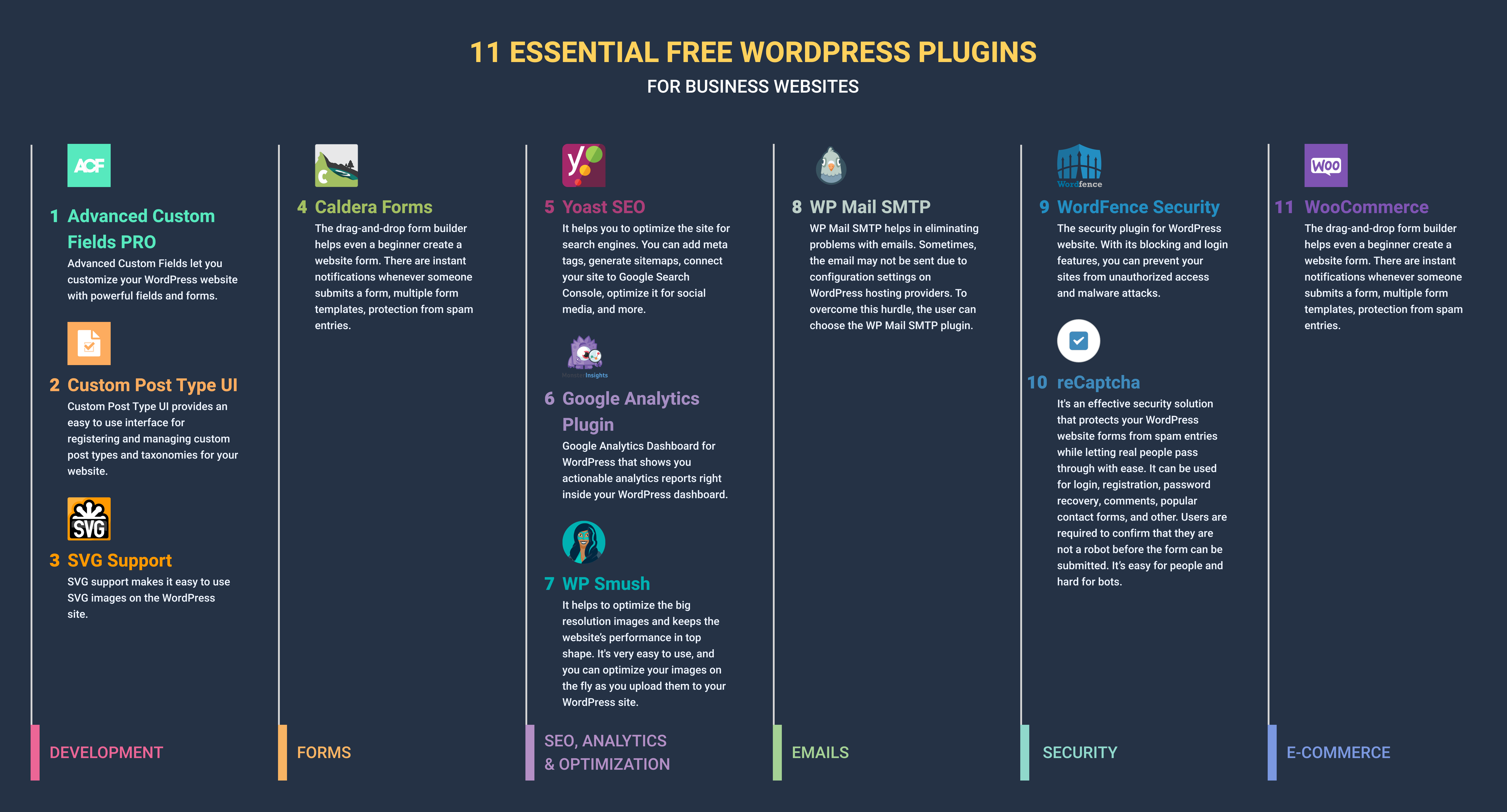 Empower your WordPress website with the above plugins
Plugin is an integral unit to develop your WordPress site. Whether you want to optimise it for search engines, manage teams, grow the email list, encourage social sharing, block the malicious activity, or more, all can be managed using a specific plugin for each function.
Hence, this go-to list of must-have plugins will enhance the process of designing your WordPress website.


Additional:
Apart from helping you select the essential plugins, you may also need custom plugins for the right feature for your website. With significant experience in building PHP based applications our team has honed necessary skills to develop the custom plugins. Many times businesses need a custom experience for their visitors which require development of custom plugins. We'll be happy to help!