A journey from being an engineering student to a design intern to a full-time designer at ColoredCow. My experiences that can help you avoid the challenges one might face.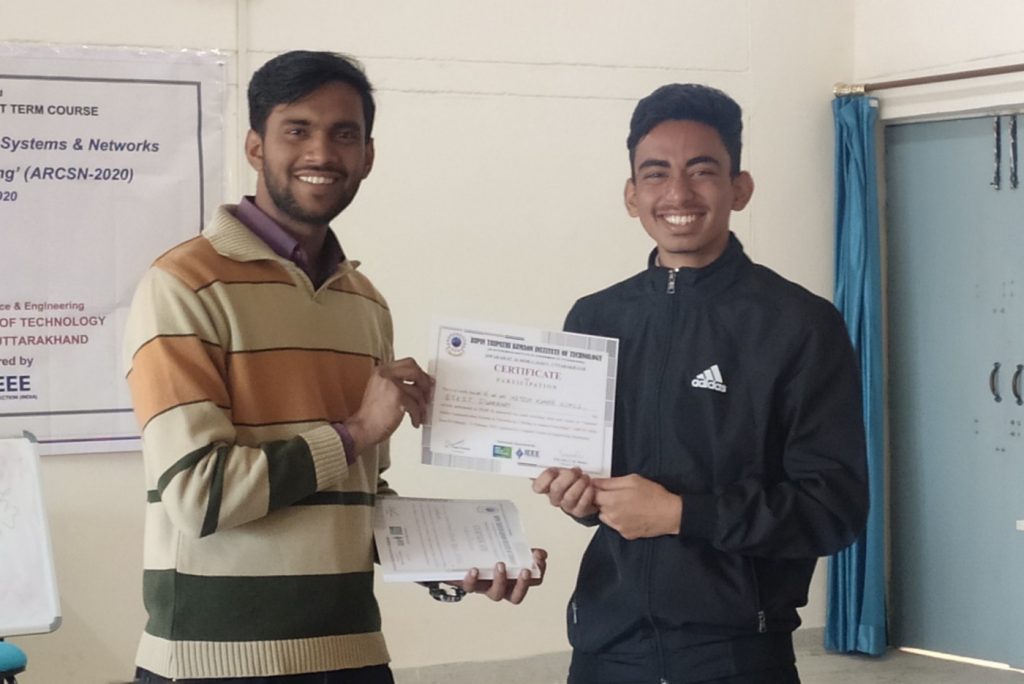 Wow, here's me back in 2020 receiving a certificate for successfully completing Networking training completely unaware how life would change in the next few months.
Engineering vs Designing
Looking back, it feels like it was just yesterday I went to college to pursue engineering in Computer Science. I had plans to become a software developer, but somehow coding never piqued my interest. I was drawing and designing posters for the college fest instead of developing(coding) the website for it. It was fun to make stuff that others appreciated especially when I had fun creating them. It's not like I did not try out coding. While in college, I tried out a few different coding languages and fields to see which one was the best for me. And I lost interest in them within a few weeks of starting, learning, and practicing them.
In the 3rd year of engineering, I got an opportunity to try out UI/UX design as an internship at ColoredCow. In the beginning, it was easy to decide as it was just an internship I was not thinking about it long term. But as time went by, I was considering UI/UX Design as a career over Software Development. It was not an easy thing to decide, there were questions and doubts in my mind about it.
Will I be able to do it full-time? Am I creative enough? What will happen with the 4 year degree in Computer Science & Engineering? In fact what about the 4 years spent on CSE degree? Will my parents be happy with my decision?
On the other hand, software development seemed like a safer choice overall even though I lacked the skills. And yet, the designing path was more tempting for me to choose as a career. Even though I would have to compete in the professional world with design graduates having more experience in the field. So I had to put more effort into the learning. With the right mentorship and a platform to practice and improve my skills as a designer, I feel like I have come a long way from when I had so many questions and doubts in my mind.
I'm working at a great organization as a designer full-time now. Contributing to live projects along with contributing to the great mission of the clients and the company and being a part of an inspiring culture. My parents are happy to see me enjoy my work and have supported me throughout my journey. Even though the end result worked out in my favour, the journey brought its own challenges(covered below).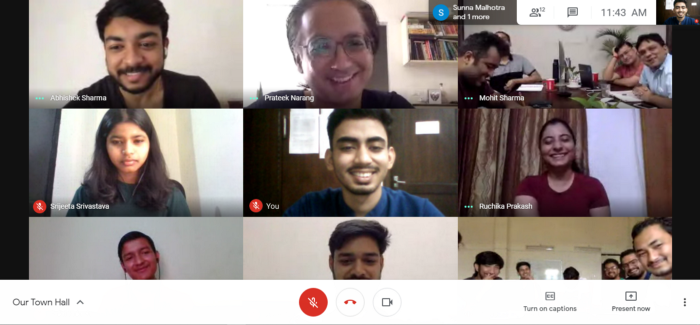 Attending town hall with the ColoredCow team at the beginning of the training in 2020
College, COVID & Internship
The colleges were continuing online due to the COVID-19 lockdowns. Meanwhile, I started the design internship at ColoredCow. It was amazing, I was learning a lot through the internship. At the same time, there were college classes and assignments. Balancing the 2 was a difficult task at the beginning and required some dedication from my side along with working late nights to complete the projects. I was also a bit lucky that the load from my college was a bit low being in the final year, so I would wrap up the same in the morning and work on the internship projects after that. Another thing that helped me a lot was the flexible working hours as I mostly worked on the big tasks in the night(felt a little more concentrated at that time being at home). There were times when I felt overwhelmed by all the internship responsibilities and college stuff. Having a mentor to guide me, along with other things like projects through which I was solving real-world problems, having deadlines and deliverables all helped me tackle the difficulties I was encountering. And even after this if I fail/slack there was an assurance that I can come back to this structure.
There were also a few weeks when I went to the college during the internship period as the covid cases were declining before the 2nd wave. That time I realized how difficult it was to manage both college and work-life together. There were moments where seeing everyone else enjoying and going out discouraged me as the college student in me wanted to go out as well. And this situation affected my work in the projects as well, I was missing the deliveries and things started piling up. To this Abhishek Sharma, my mentor at ColoredCow helped me realize that I needed to think about my future plans and what I needed to do to achieve that. I was taking a different route so my approach had to be different from others also. I had to do what others weren't doing. He added:
Distractions are very common and there will always be distractions in one form or other. We are the ones who need to decide the priority of things in our lives and work on those priorities accordingly.
Similarly, Abhishek supported me throughout my transition from an engineer to a designer. Since he had also gone through a similar career shift. It was very helpful being his mentee and learn from his experiences. His guidance made me jumpstart my career as a designer. I had daily standups with him for almost a year to figure out the areas I was getting stuck in and ideating together on work where I was having difficulty conceptualizing the requirements and much more. It was his support that I have come this far along.
There were times when exams and live projects were going on together. These situations were a bit difficult to handle as both the tasks were equally important. I used to take out a few hours from the day to work on the projects as well after the preparation and exams. Everyone at ColoredCow motivated me to focus on the exams and work on the projects and take time to complete the college duties. Looking at the work I was creating during the internship and how it was helping the clients improve their outreach to their customers/audience made me realize why I was doing this internship and gave me the motivation to keep working hard. Working on all these projects helped me learn many design skills and the work I produced was a good addition to my portfolio hence taking me closer towards my goal to become a designer.
Working with the ColoredCow team
When I started the internship, I was mostly working on practice projects. With daily standups with my mentor and other members of the ColoredCow design team, for discussing the areas that we were stuck in or taking feedback from others. I was a little nervous for the first few times I went to the standups as we had to present our progress to the team and I was not very sure about my presentation skills, that too in a whole new domain in front of an expert(my mentor). With time the nervousness went away and I was able to talk freely with the team.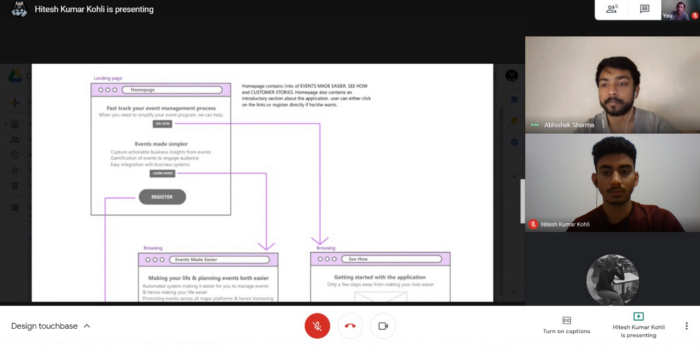 Presenting the practice project to the design team in Design Huddle
There were some instances where a team member motivated others to try new things out. Like the time when seeing Sunna(Design team member) do such amazing work at animation, Vishal(trainee from the same college as me) and I also started taking interest in animation. Since then both of us have worked on many videos like some food tech platform-related tutorials or tutorial and presentation videos for Glific an open-source platform for NGOs. And hence expanded the ColoredCow portfolio towards video creation as well. Or the time when Srijeeta(another trainee from the same college as me) mentioned that she was using Figma as the primary designing software, to collaborate among a few interns/trainees, we started using Figma more actively. Now the team was able to see the live progress of ongoing projects without getting through the whole process of exporting the pdfs and sharing them, also making sharing the feedbacks and suggestions easier in the form of comments on the same platform.
The first time I interacted with the ColoredCow dev team was on a health awareness project. It required a lot of communication with the team as I was forgetting to add comments and notes with the designs I made. And that's when I realized why Abhishek said:
It's necessary that the design handoff with the dev team should be a smooth process and every aspect and functionality of the design should be understandable by looking at the designs.
It would have saved a lot of time for the dev team and me if I would have gone a few extra steps and done the things like adding comments for functionality, capturing all possible state changes on the interface, having a design guideline from the start, etc… Also, thanks to the dev team that they were very supportive and gave me suggestions to implement for next time.
It's not all about the big projects that we do with the team. There are many small instances when I got to interact with the team members individually. Like when PK wants a logo fixed, or when Vaibhav needs a certificate to be created, or when Kuldeep needs some images to be adjusted according to the website. All these interactions and working with the team early on gave me a chance to know more and more people at ColoredCow. I wasn't only exposed to the design team or the design process only (I saw the complete software design and development process), which made the transition from intern to full-time a lot easier and smooth.
Preparing for the job
I knew beforehand based on the discussion with my mentor that a job for me was secured based on my contributions. Even though it was decided months ago, I was offered the position of UI/UX Designer at ColoredCow when I completed my graduation. When I told my family they were very happy about the progress I had made. Working from home the entire time and now with lockdown easing quite a bit, I had to be in the office working with the team in person and I was a little nervous as well as excited about it. It was a great chance to be in a new environment. I was already familiar with most of the team because of the training & internship phase I went through.
When I came to the Gurugram, it felt so great to be at the office, I was feeling like I have leveled up a lot since the past year. It's a different feeling from when I was working from home, I get to interact with great people daily, it is a different environment and I feel more focused on the work when at the office.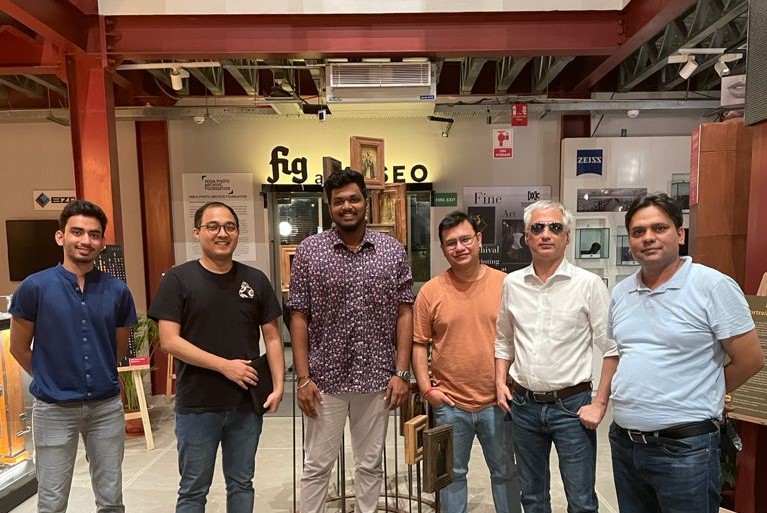 ColoredCow team at Museo Camera Centre for the Photographic Arts
The transition from a Design Intern to a UI/UX designer was very smooth. It took some time, but it was known as I did not have any background in design as I was pursuing Engineering. But everything just felt natural — from starting the internship, working on preparatory exercises, working on live projects to attending client meetings to becoming a full-time designer.
If you're now where I was in my engineering days and are interested in design- write to me at hitesh.kohli@coloredcow.in