Transparency by its fundamental nature tends to give way to trust. This can be with respect to any relation or dealings that one creates, in particular, if we talk about this with respect to an individual and his organization, transparency is highly important but most of the time not valued in a lot of work environments.
At ColoredCow, we believe that transparency not just creates trust but opens doors to an all new dimension of possibilities (which we'll talk about soon!) and hence it is among the top priorities on our list. Every Monday we have a Town Hall Meeting in ColoredCow and apart from this as per the need of discussion we keep meeting to know the Who/What/When/Why/How of the big decisions ColoredCow takes.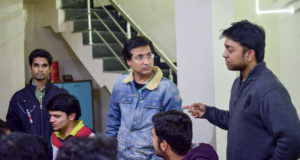 These Town Hall Meetings are for the entire team irrespective of what position you hold in the company or how long it has been for you with ColoredCow. So we have the CEO and the interns at the same table. We discuss everything in this meeting from any new change in the company's functioning to the financial standings, from the projects we are working on to the work we will be taking in and most importantly from individual growth to founder mindset.
Now comes the question Why? What is the need of having a meeting with everyone involved and sharing delicate information? There are multiple ways in which these meetings help us as a company and they justify the 'Why?' for us.
The feeling of "I Contribute".  When everyone is aware of what is happening in the company they are more involved and are able to understand what is their part in the chain. Deep down, every human being wants to find meaning in their work. As Adam Grant writes in Give and Take, the power of purpose not just improves happiness but also productivity.
"We trust you". We believe that all information should be shared with the team instead of assuming that only parts and parcel of it are meant for different audiences. We start our relation with the people who join us with trust as the base and hence we share everything and trust the team to keep the information confidential. Quoting Laszlo Bock from Work Rules!, "If you believe people are good, you must be unafraid to share information with them."
"We value your opinion." When you value someone else's opinion, to start with you show them that they are important to you. As every individual has their own way of thinking, these discussions give an opportunity for collective brainstorming, and you never know who might surprise you with an approach you never thought of. We hear everyone's say on things irrespective of whether it is their area of expertise or not. This helps in shaping and reshaping strategies.
"Beauty of seeing the bigger picture." The ability to see the full extent of what one does helps in creating a stronger conviction and attachment to that work. A lot of people never get an opportunity to understand the impact their work creates. They keep working on the small pieces of the jigsaw puzzle and never realize how they contribute to making the picture whole. They keep working in the oblivion and fade away in the background. Our approach gives everybody an opportunity to see this picture with their piece in it and also, in turn, find ways to be part of more pieces they think they are good in creating.This helps in having clarity and in turn drastically improve productivity.
All of these things contribute to developing faith in one's work and in the organization they are working with. This gives them the freedom to think about the organization as their own, to cultivate the Founder Mindset.
These Town Hall's give the experienced members of the team an opportunity to share their stories of how the cultivated founder mindset and the newbies get an opportunity to ask them about their queries, their hurdles and how they are approaching founder mindset.From these experiences, one is able to understand and design a learning curve for themselves in order to grow in the company.  Making it fair and square for everyone.