Glific v0.1 arrives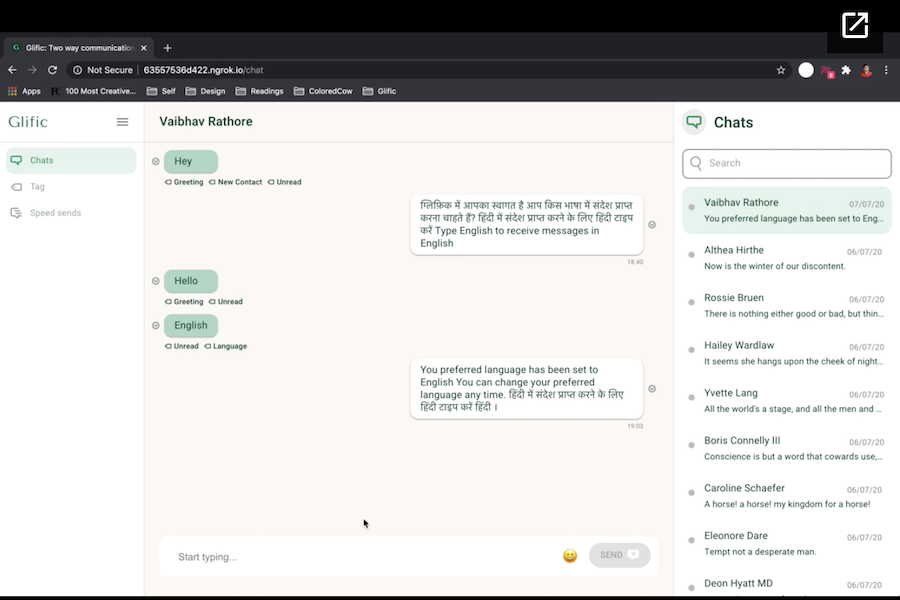 Communicating with the beneficiaries is as important a part of an NGO's work as running their impact programmes itself. For some, it may even be the main mode of improving human lives for domains such as education, healthcare or livelihoods counselling etc…
These needs led to many NGOs exploring various communication channels such as IVR systems, or even WhatsApp(WA). And as it turned out, with such a penetrating reach of WA, with a majority of people owning smartphones and WA already installed, it proved to be a good solution for the NGOs. Also with coronavirus hitting us hard, internet driven communications were really required to stay connected and communicate.
Though WhatsApp proved to be a great communication tool, it doesn't completely align with an NGO's use case. We heard some really great endeavours and amazing pilot programs run by NGOs using WA. Creating multiple groups to handle a large number of people, owning multiple WA registered phone numbers, using broadcast mechanisms to reach out, building their own tools or adopting a combination of tools to fit the use case. The stories are endless and the drive to make it work inspiring.
It also means that there was a need to improve the communication channel.
This vision led to the idea of building a two-way communication channel between NGOs and their beneficiaries built on top of WhatsApp. And we're really happy to present that the idea has taken a shape with its first release – Glific v0.1
Here's a short clip to demonstrate a few features we've built so far-
Apart from the regular chat functionality which you observe in WhatsApp, there will be various other functionalities in Glific to handle conversations at a large scale.
Some of the feature highlights of this version are:
Carrying out 121 conversations by sending both manual and automated messages.
Tagging the messages both manually and automatically, to find those messages easily whenever the need arises
Search for chats by name, phone number, name, or tags.
Set preferred language to English or Hindi (more language in future releases)
Save certain messages which need to be sent again and again
Setup auto-responses for some keywords such as Help, Menu for beneficiaries to easily navigate through automated messages.
Version 0.1 of Glific is currently not available via a regular registration process(coming soon in a couple of months). Meanwhile, if you're an NGO and think Glific could be valuable for you, you can enrol as an alpha or beta user by simply writing to us. We would love to hear out your communication requirements and find a match with Glific or build your use case into Glific if it is beneficial to the majority of NGOs.
---
With an anchor of Glific v0.1, we're moving into the development of v0.2. It includes a lot of enhancements to current features and some new ones. Here's a quick highlight:
Automated tagging of messages as per the keywords set by NGOs
Quickly accessing the saved messages (speed sends)
More enhanced search functionality
Creating a collection of beneficiary chats to easily send a message to a group
Send HSM template messages
Add more NGO staff members and assign them to one or multiple conversations